August 16th, 2013
---
02:24 pm - I'm 35!
I shaved my beard off last night for the first time in a long time, and I went to get a haircut this morning. The barber asked me if I just moved to Tuscaloosa to go to college. I sighed and said, "No. I'm 35." Some of the old timers in the barber shop started discussing how old they thought I looked. They decided on college sophomore. So, I am officially growing my beard back.


August 2nd, 2013
---
09:56 am - Back to School!
At age 35, I will be taking Astronomy 101 in the Fall. I work at the University which means I get 1 free class per semester, I don't have enough interest in my academic field (communications) to pursue a PhD, and I'm bored during 90% of my free time, so why not? Its going to be awkward as I find 18-21 year olds to be the most annoying demographic on the planet. Who knows? Maybe I get really interested, declare a Physics major, and have a totally different career in a few years. Probably though, I just take the one class.

Speaking of scholastic excellence, Krista gets her Masters in Library and Information studies tomorrow. We will then have a matching pair of degrees.

Egans regular BK passes away a few days ago. I don't know anyone who didn't like that guy. It used to be that whenever he saw me he would yell "Player player!" (I was once a very efficient skirt chaser). Once I got engaged and when Krista was with me, he would make a point to walk near me and whisper so that Krista couldn't hear, "player. player."

June 12th, 2013
---
03:37 pm - Quadrennial Post
The big thing with me lately: I quit smoking 10 months ago and quit drinking over 7 months ago. I had gotten up to 250 pounds, was hungover most of the time, and was having some pretty bad heart problems. Surprisingly, of the two, the drinking was the hardest to quit. Everyone who has quit these habits talks about how much better they felt after getting all of that out of their system. I felt like total ass for the first 6 months. Worse than I ever felt before. After 6 months though, something clicked. Now, I lift weights everyday, run on the treadmill, and regularly throw haymakers at my punching bag. I'm not necessarily trying to get in shape, I just have a lot of energy now that I have to get out. I'm down to about 223 and am starting to vaguely resemble the human form again. And my heart problems have almost completely disappeared.


Other events:

Got a good job at UA.
Bought a House.
Got Married.
Got a kick ass dog. His name is Wilson.
Maggie is still alive and well if you (idk who "you" is supposed to be) were wondering.

January 16th, 2009
---
07:44 pm - Holy shit!
This is the front page of James Spann's Twitter. Notice his headline.... Coincidence?


December 1st, 2008
---
08:59 am - $50
Thats how much money I won in the family poker game over Thanksgiving.

I have to write somewhere in the neighborhood of 35 pages before the end of the semester. So, over the weekend I learned how to play "Wanted Dead or Alive" by Bon Jovi in its entirety on the guitar... I'm still working on the solo though.

November 26th, 2008
---
10:07 am - Help...
James Spann and the Suspenders is playing a house party a week from this Saturday (on Reed St.). We are opening for Model Citizen. Anyway, DJ Bin Rock'n is going to be in Atlanta at the football game, so is there anyone who would be willing to take his place? A projector and a laptop would be nice, but honestly what needs to be done could be accomplished with an ipod (but you should still wear headphones and look all DJish).

November 18th, 2008
---
03:28 pm - Any ideas?
After this semester, I'll only need 3 credit hours to graduate. But, I have to take 9 hours to keep my financial aid. Any ideas on interesting, useful, and/or horse shit easy graduate level courses?

November 9th, 2008
---
08:07 pm - Procrastination isn't without rewards...
I should be writing a paper. Instead, I've been browsing the contents of an old removable HD that I dug out of the closet. Among the gems I found was my first (or somewhere thereabouts) video project from many years ago. The assignment, as I recall it, was to use found footage to convey how you feel about something. I chose the topic of relationships. Aside from the kick ass Woggles song that I used, there really isn't much reason to show this to anyone. But, putting this on Youtube and posting this entry is way better than writing a methodology and data analysis plan.

By the way, I always spell analysis this way - "anaylasis" until spell check tells me I fucked up.



November 2nd, 2008
---
06:14 pm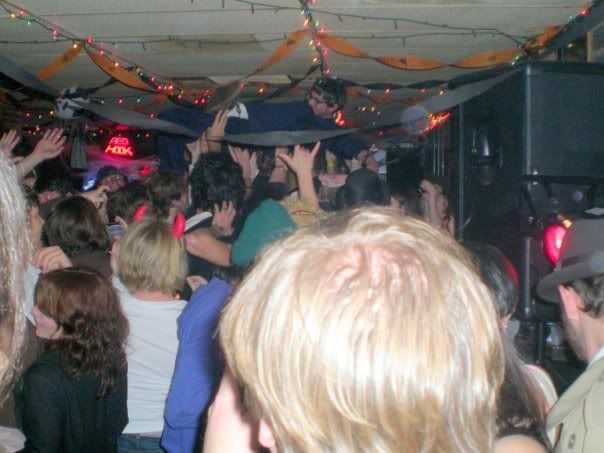 August 31st, 2008
---
09:37 pm - About the motorcycle....
This is it.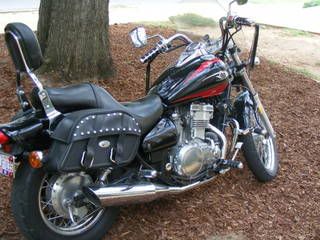 I like to rationalize this purchase by noting that I got a really good deal on it, and it DOES get 50-60 miles per gallon. The guy that sold it to me even threw in a helmet, biker gloves, AND a leather bandanna.

I bought it in Birmingham and carried it back to Tuscaloosa in the bed of my truck. It stayed in the back of my truck for almost two weeks partially because I was busy, but mostly because I was afraid of it. Getting it on the truck was such an ordeal (me trying to hold a 60 year old 5'3 man upright while he burns rubber on a narrow wooden ramp) that I wasn't looking forward to getting it off... I got it off the truck just fine then immediately dropped it because 500Ibs is heavy. Luckily I was on the grass so nothing was hurt.

Over the next two days, I drove terrified in circles around a church parking lot. Then I started driving terrified around the neighborhood. Now I can drive terrified all the way to Target and to work. Everywhere I go on it, I'm screaming on the inside. I am usually drenched in a nervous sweat by the time I arrive anywhere. I tried to drive it to the movie theater about I week ago, but I hit a pot hole, got scared, and came back. One day I'll make it all the way to Mexico.

I don't mean to seem like I don't like it though. It is, right now, about 75% horror 25% pure awesome. This is much better than the 95/5 ratio of a few weeks ago. One downside however is that I feel like I can't shave my beard now, but that is kind of evened out by not having to watch my weight anymore. A beer gut looks just fine on a motorcycle.



Clearly, the guy knows what he's doing, but it still cracks me up.




HAHAHAHAHAHA!!!! Oh God!!!
My Grandfather (on my dad's side) always said, "If you ain't no count at nothing else you can always be a preacher or a cop." I'm so glad they made a video.